Privacy Policy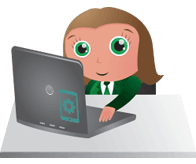 PolicyPak Software / MDMandGPanswers
We are committed to your privacy
There are certain areas on our sites where we ask you to register or provide personal information in exchange for services or promotions. While your right to refuse this information will not interfere with your use of PolicyPak.com and MDMandGPanswers.com (known henceforth as the "Site" or "the sites"), it may prevent you from participating in certain programs, receiving information about new products and promotions, or accessing certain portions of the site reserved for registered users. Due to security issues, web-based and free email accounts are not accepted for purchasing or registration purposes.
Use of Personal Information
We collect information about you when you register to receive information, visit our web site, or make a purchase. Here are some ways that we may use (or not use) your information:
We may store and process your personal information in order to better understand your needs, and provide you with information on improved products and services.
We may use your personal information to contact you about new products, share promotional campaigns, or to provide product support.
Your personal information could also be used to contact you if we have difficulty processing or shipping your order.
We use cookies on our website to manage your session while you are using the site.
Your personal information, including your email address, is not sold or shared with anyone outside of PolicyPak Software or MDMandGPanswers or our authorized partners.
We will comply with any law enforcement request to turn over personal information.
Security
We are committed to keeping your personal data safe and we take every reasonable precaution to make sure your information is secure. Access to your personal information is restricted to our employees and our authorized partners who have a specific need to view the data. Our employees, and the employees of our partners, are required to maintain the confidentiality of this information, and may not use this data for any purpose other than to complete the services required of their employment.
Information We Automatically Collect.
When you access our Sites on any device, we automatically collect certain information about your use of our Sites using technologies such as cookies and web beacons. We may collect information such as your geographical location and information about your device (such as the IP address, operating system, browser and version used), and if you are using a mobile device, who your carrier is. We may also collect how much bandwidth was used; the system and connection performance; the referral source, length of your visit, and number of page views.
Cookies
When you visit our Site, our web server sends your computer a cookie, which is a file that web browsers place on a computer's hard drive to indicate that you have previously visited the Site. It may collect data about how you navigate around a web page, the most commonly clicked links your browser version, and operating system. You can configure your browser to accept all cookies, reject all cookies, or notify you when a cookie is set. Each browser is different, so check the "Help" menu of your browser to learn how to change your cookie preferences). We use cookies in several ways, including to access a customer's account information when they log on (so we can provide customized content), keep track of your preferences, and to allow us to gather audience size and traffic data which allows us to conduct research to improve the content and services of our Sites.
Web beacons
We may use web beacons (aka, clear GIFs) to access cookies and count users who visit our Sites or open our email messages. Web beacons are similar to cookies and are single-pixel graphic files with a unique identifier. Web beacons are embedded invisibly on web pages and in emails and are stored on a user's hard drive. You can change your browser settings to control web beacons.
Third-Party Cookies
We may also from time to time engage third parties to track and analyze non-personally identifiable usage and volume statistical information from visitors to our Sites. It will not collect personally identifiable data, such as your name, address, or phone number. Such third parties may use cookies and web beacons to help track visitor behavior.
Links
If you click on links and/or ad banners that take you to third-party websites, you will be subject to the third parties' privacy policies, and not ours. While we support the protection of privacy on the Internet, we cannot be responsible for the actions of third party websites. We encourage you to read their posted privacy statements and user terms and conditions before providing any personal information or even interacting with any other website.
Import of your information from 3rd party events
When you attend a webinar or live event that MDMandGPanswers.com or PolicyPak is involved in, we may acquire the list of names and contact information from that event. Then we may use that information to reach out and contact you about a promotion. If you do not wish to be contacted in this way, you can opt-out before you attend the event or request to be forgotten after we first make contact via email or phone.
Disclosures Made by You within Interactive Areas of a Site
If you visit our bulletin board, blog, share a comment, or participate in a discussion forum or chat room made available on our Site, you should be aware that any personally identifiable information you submit there can be read, collected, or used by other users of these forums. That information could be used to send you unsolicited messages, and may be searchable by search engines. We are not responsible for any misuse by third parties of any personally identifiable information that you choose to submit in these interactive areas.
Use of Widgets
We may provide widgets on our Sites that make it possible to share information on third-party platforms. These widgets do not store your personally identifiable information.
Our Sites may also include social media features, such as the Facebook® or Twitter® button and other interactive mini-programs that run on our site (each, a "Feature"). Some of these Features may collect your IP address, which page you are visiting on our site, and may set a cookie to enable the Feature to function properly. Social media Features and widgets are either hosted by a third party or hosted directly on our Site. These Features are governed by the privacy statement of the company providing the Feature or widget.
Google AdWords remarketing
We use the Google AdWords remarketing service to advertise to previous visitors who have visited certain pages on our site, or haven't completed a task on our site; for example, if you started but did not complete the contact form. Remarketing could be in the form of an advertisement on the Google search results page, or a site in the Google Display Network. Third-party vendors, including Google, use cookies to display ads based on someone's past visits to a website. Any data collected is used in accordance with both our privacy policy and Google's. You can change preferences for how Google diplays ads to you by visiting the Google Ads Settings page (https://adssettings.google.com/).
Behavioral Targeting/Re-Targeting
We partner with third party ad networks to either display advertising on our Sites or to manage our advertising on other websites. Our ad network partners may use cookies and web beacons to collect non-personally identifiable information about your activities on our Sites and other websites and provide you targeted advertising based upon your interests. To opt out of this type of cookies, visit the Network Advertising Initiative (NAI) website at https://www.networkadvertising.org/choices/. If you opt out through the NAI website, you will still receive communications you have signed up to receive from us unless you opt out of those by using the information in the "How to Update or Delete Your Information" section of this Policy.
Testimonials
We may select and post customer testimonials, which may contain personally identifiable information (e.g., name, city, state, or country). We will obtain your consent before posting any testimonial with your name. If you post such content, it will be available to other users of the Services. Your posting may also become public and we cannot prevent such information from being used in a manner that may violate this Policy or the law. If you would like us to remove or delete your name or testimonial from our Services, please email us at [email protected]. (Copies of information that you have updated, modified, or deleted may remain viewable in cached and archived pages of our Sites for a period of time).
How to Update or Delete Your Information
If you would like to have a copy of your personal information, update it, or have it deleted from our customer database, please email us at [email protected]. You may also request to be removed from our mailing list when you receive our email newsletters by following the steps detailed at the end of the message.
Note that after a request for deleting your information is processed, some data may be preserved if you have purchased something from us or we are otherwise trying to fulfill a contract.
Also, once you have revoked our permission to use your personal data, you are automatically prevented from being re-added unless you make a new purchase.
Governing Law; Superseding Contract Terms.
By choosing to visit and interact with PolicyPak and MDMandGPanswers.com, you agree that your visit and any dispute regarding the protection of your privacy during such visit is subject to this Policy and the dispute resolution provisions in our separate Terms of Use applicable to the Services relating to the dispute. Please note that to the extent a customer enters into other contractual agreements with PolicyPak or MDMandGPanswers.com, the privacy terms and conditions of such agreements (including the separate Terms of Use applicable to the relevant Services) may by express reference supplement or supersede portions of this Policy.
MDMandGPanswers.com and PolicyPak use various third-party tools to manage contact information for the purposes of sales and marketing. According to GDPR, a person residing in the EU may choose to exercise their "Right to Erasure" (also known as "Right to be Forgotten.") We will do our best to honor that right; as our third-party service, Infusionsoft handles the redaction. The GDPR compliance statements for Infusionsoft and other tools can be found on their respective websites.
The full text of the GDPR can be found at the link below.
https://ec.europa.eu/info/law/law-topic/data-protection_en
Changes to this Policy
We may update this policy to reflect changes to our information practices. We encourage you to periodically review this page for the latest information on our privacy practices.
Effective Date of Policy.
This Policy was last updated as of the last date set forth below. If you would like to see an earlier version of this Policy, please contact us using one of the methods set forth above and specify the applicable date or time period for the prior Policy version requested.
© Moskowitz, Inc. Any rights not expressly granted herein are reserved by PolicyPak Software and MDMandGPanswers.com.
Revised: October 29, 2018.