Online Class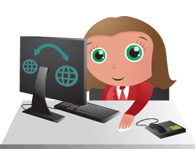 Group Policy Online University
The Group Policy Online University helps you get smarter in Group Policy TODAY, at your own pace, and at a lower cost of traditional training.
The best part is that you're not going at it alone. With our Silver and Gold packages, you'll have included "Mentoring time" with Enterprise Mobility MVP Jeremy Moskowitz to help you though any rough spots.
Pick a package that makes sense for you and your company right here, and we'll get you the online access you need to get started and usually ship your package the same day.
Group Policy Online University is well worth the money. How many times have you attended a week long class to only retain a portion of the information presented? Not so with Jeremy's online training, I was able to break it down into small portions and then go practice. This allowed me to retain much more information. Finally, I was at my desk and could work in my own environment. I made huge strides in my understanding of Group Policy with this online training. Great content Jeremy!
Zach Knaus
J&B Group St. Michael, MN
I knew a little about Group Policy before I started the class, but the Group Policy Online University opened my eyes to a whole new world. I never knew how much control this built-in feature gave me.
Jeff Heiden
Sr. PC/Lan Support Staff, Illinois Municipal Retirement Fund
I really did enjoy the course. It allowed me to go from virtually zero knowledge of group policy to having a firm understanding of the core of the system. It also allowed me to quickly leverage things I already knew how to do within the system. I definitely would recommend it to others.
Wes Frazier
Technology Support Technician, UNC Pembroke
I went in to the group policy training with a basic knowledge of group policy. The college I work for had a real need for group policy for software deployments, printer mapping, drive mapping as well as other needs. We found enough information about how to get these group policies created and deployed but when they did not work we ran into brick walls. After the five days of watching the videos of Jeremy I had a very good understanding of all aspects of group policy. The knowledge you get from these courses goes beyond how to make GPOs but also how the entire process works. You get troubleshooting experience and he ever tells you what tools you can use depending on the issues. This knowledge was very useful from day one when I got back to work. Also the knowledge of the order of precedence helped me a lot understand how the settings are applied and why some settings were not making in down to the client. The "green" book is a group policy bible. It never leaves my desk. If you feel you could use more knowledge of group policy then take this course. The content is top notch and the presentation is first rate. Thanks for all the knowledge!
Derrick
User Support Technician, Lake Michigan College
For those who invest in their career but don't have the time and money to go to a class during working hours, the GP University is an excellent alternative and allows you to learn at any time you want. Actually I felt like sitting in a class myself.
I work for a public school district in Texas and needed to control student user environments through group policies. I specifically ordered and took Jeremy's GPanswers.com on-line course to solve the problem of matching student environments when they logged on to new Win 7 computers and the older Win XP computers. Jeremy's GPanswers.com on-line course made that happen along with a world of other group policy applications that have made my life so much easier. Thanks for the knowledge.
Bob Fiorini
Technology Director, Palacios Independent School District, Palacios, Texas
The video classes were very good, and I got a lot out of the printed materials and labs. Jeremy is an excellent instructor and explained GP topics well.
Lisa Martin
IT Specialist VI, Auburn University, Auburn AL